Regular price
RM18.00 MYR
Regular price
RM20.00 MYR
Sale price
RM18.00 MYR
Unit price
per
Sale
Sold out
Introducing the Lampu Cherita Scented Candle, a perfect addition to your home fragrance collection. Immerse your space in an enchanting aroma that lingers for up to 30 hours, creating an ambiance that is simply irresistible. The sweet and fresh scent of our candles is so captivating that you'll be tempted to bask in its delightful fragrance all day long. Each candle is meticulously handcrafted with all-natural soy, ensuring a clean burn that emanates love and dedication.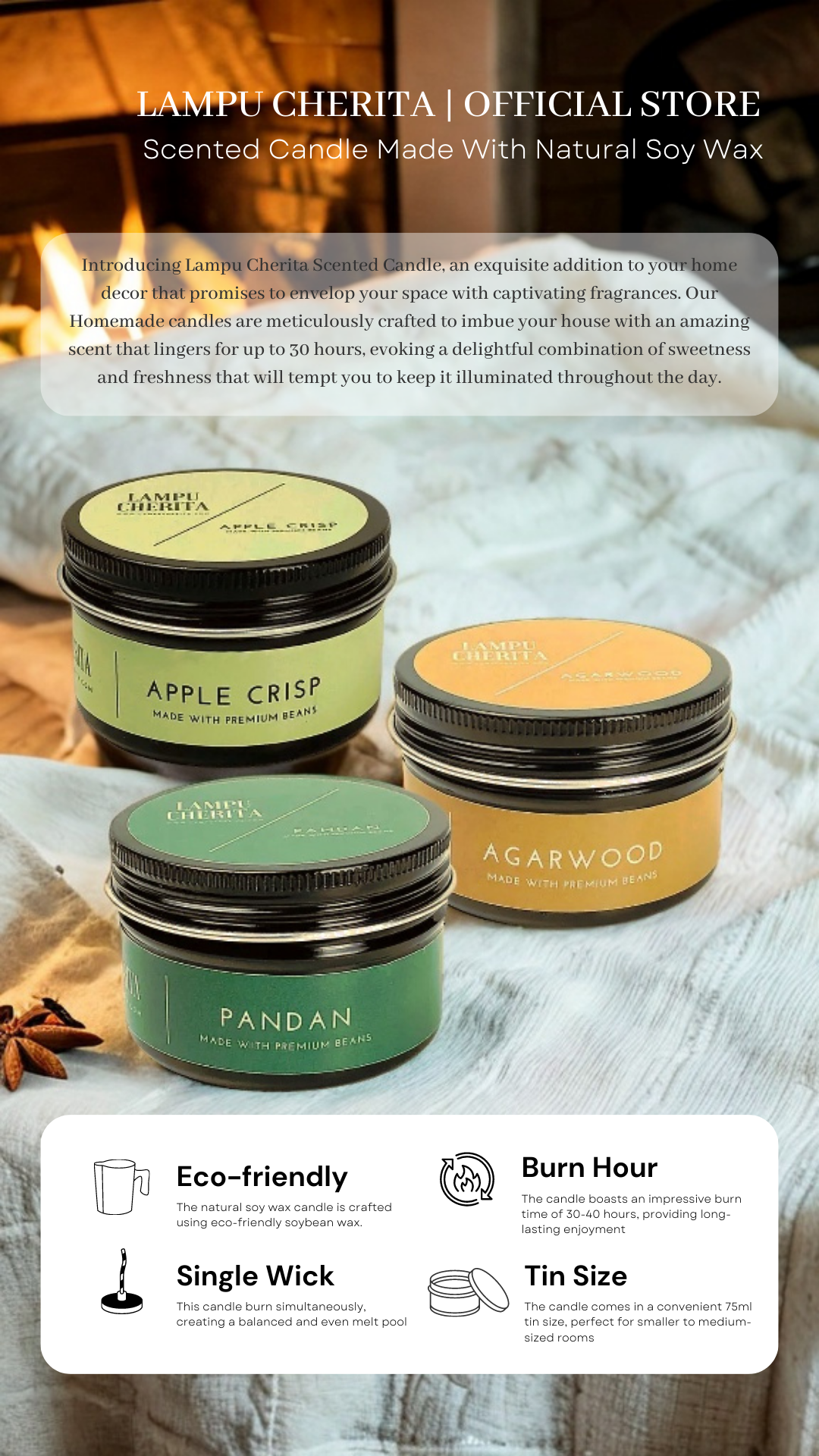 Experience luxury without the extravagant price tag with the Lampu Cherita Scented Candle. Our candles offer a cost-effective solution to enjoy the refined qualities associated with luxury brands. Crafted from natural ingredients, they provide a safe and effective way to infuse your space with captivating fragrances, free from harmful chemicals. Our candles feature Natural Soy Wax, a processed form of soybean oil known for its exceptional performance, delivering a long-lasting and soothing glow that enhances relaxation and acts as an invigorating air freshener.

Indulge in the delightful combination of Vanilla Mint, where the rich sweetness of vanilla meets the refreshing coolness of mint. This harmonious blend will fill your surroundings with a captivating scent, creating an ambiance of tranquility and sophistication. With a burn time of approximately 30 hours, our scented candles ensure extended moments of aromatic pleasure, making them ideal for personal relaxation or elevating the atmosphere of any room. Please note that the stated measurements are approximate, allowing for slight variations that add a touch of uniqueness to each candle.

Elevate your home environment with the Lampu Cherita Scented Candle and embrace the art of sophisticated fragrance. Transform your space into a sanctuary of serenity and luxury, where the enchanting scent of the candle envelops your senses with its sweet and fresh aroma. Discover the Lampu Cherita Scented Candle today and let the enticing combination of Vanilla Mint whisk you away to a realm of indulgence and elegance.
Share
View full details
Here are some of the benefits of your offer
ENJOY RM20 OFF
Enjoy RM20 off with minimum spend of RM200. Redeem the promo code now LC2023
QUALITY ASSURANCE
We deliver the best products
PAYMENT METHODS
GrabPay, FPX Online, Stripe
More than just candle !
We use the highest quality phthalate free, botanical fragrance oils, essential oils and lead-free cotton wicks to provide you with a clean burning candle
GET IT NOW