Regular price
RM18.00 MYR
Regular price
RM20.00 MYR
Sale price
RM18.00 MYR
Unit price
per
Sale
Sold out
Introducing the Lampu Cherita Scented Candle in the classic variant, a testament to the timeless elegance and captivating aroma that will envelop your home for up to 30 hours. Immerse yourself in the sweet and fresh scent that emanates from this exquisite candle, captivating your senses and tempting you to keep it lit throughout the day. Each candle is meticulously handcrafted with all-natural soy, ensuring a safe and effective option to enhance your sensory experience.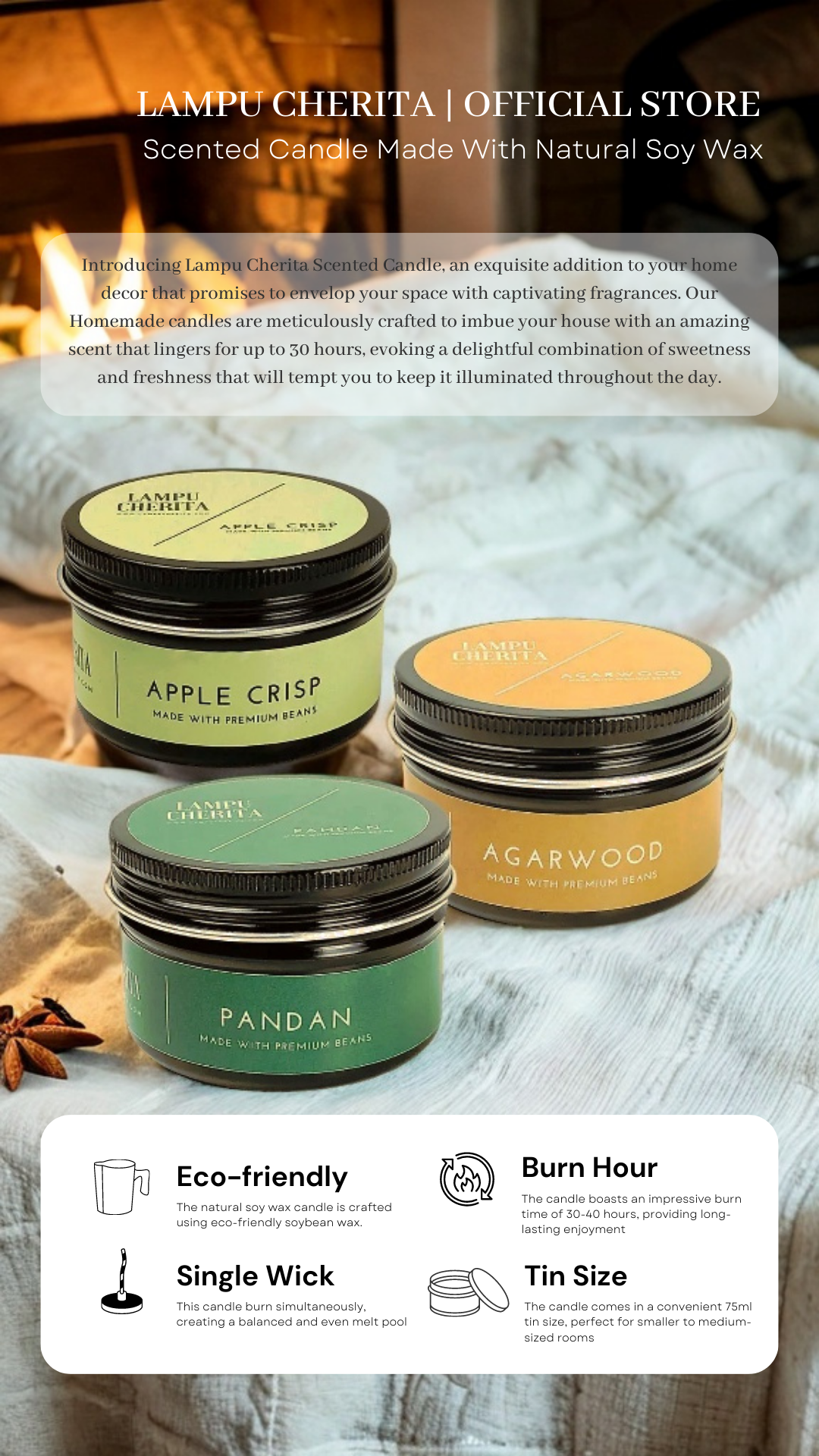 Indulge in the luxury of high-end brands at an affordable price with the Lampu Cherita Scented Candle. Designed to provide the quality of luxury brands without breaking the bank, this cost-effective option allows you to enjoy the finest fragrances in the comfort of your home. Made from natural ingredients, it guarantees a safe and effective way to elevate your space's ambiance.

Crafted with care, the Lampu Cherita Scented Candle is handmade and hand-poured, reflecting the utmost dedication and love poured into each creation. It is made using Natural Soy Wax, a processed form of soybean oil known for its clean burn and long-lasting performance. With this candle, you can enjoy a soothing atmosphere and indulge in moments of relaxation and tranquility.

Not only does the Lampu Cherita Scented Candle infuse your space with a delightful fragrance, but it also serves as an effective air freshener. Whether you seek a calming environment or simply want to freshen up the air, this candle is the perfect choice. Embrace the gentle flicker of the flame as it illuminates your surroundings, creating a serene atmosphere for relaxation and rejuvenation.

Please note that the measurements provided are approximate, as each Lampu Cherita Scented Candle is individually crafted with attention to detail, resulting in slight variations in size. Embrace the timeless beauty and captivating scent of the Lampu Cherita Scented Candle in the classic variant. Elevate your home's ambiance and immerse yourself in an enchanting experience that leaves your space smelling amazing, while enjoying the comforting glow of a candle handmade with love and care.
Share
View full details
Here are some of the benefits of your offer
ENJOY RM20 OFF
Enjoy RM20 off with minimum spend of RM200. Redeem the promo code now LC2023
QUALITY ASSURANCE
We deliver the best products
PAYMENT METHODS
GrabPay, FPX Online, Stripe
More than just candle !
We use the highest quality phthalate free, botanical fragrance oils, essential oils and lead-free cotton wicks to provide you with a clean burning candle
GET IT NOW