Regular price
RM22.50 MYR
Regular price
RM60.00 MYR
Sale price
RM22.50 MYR
Unit price
per
Sale
Sold out
Discover Lampu Cherita's Wooden Wick Candles, the epitome of elegance and serenity. Handcrafted with precision, our candles offer a truly enchanting experience. Choose from an exquisite selection of scents, each with its own unique benefits:

Vanilla: Comfort, Relaxation, Warmth
Vanilla Mint: Refreshing, Invigorating, Energizing
Lavender: Tranquility, Stress Relief, Sleep Aid
Lavender Mint: Calmness, Clarity, Refreshment
English Pear Freesia: Joy, Vitality, Elegance
Jasmine: Romance, Exoticism, Serenity
Rose: Love, Comfort, Serenity
Sakura: Renewal, Tranquility, Peace
Sea Salt: Freshness, Clarity, Revitalization
Coffee: Awakening, Focus, Creativity
Cherry Blossom: Beauty, Serenity, Grace
Ylang Ylang: Sensuality, Relaxation, Positivity
Ginger: Invigoration, Energy, Focus
Sandalwood: Calmness, Grounding, Serenity
Agarwood: Spiritual, Meditative, Relaxation
Gardenia: Enchantment, Serenity, Beauty
Beauty Lily: Purity, Tranquility, Calmness
Bergamot: Upliftment, Motivation, Positivity
Lime Basil: Refreshing, Revitalizing, Uplifting
Unscented: Simplicity, Versatility, Natural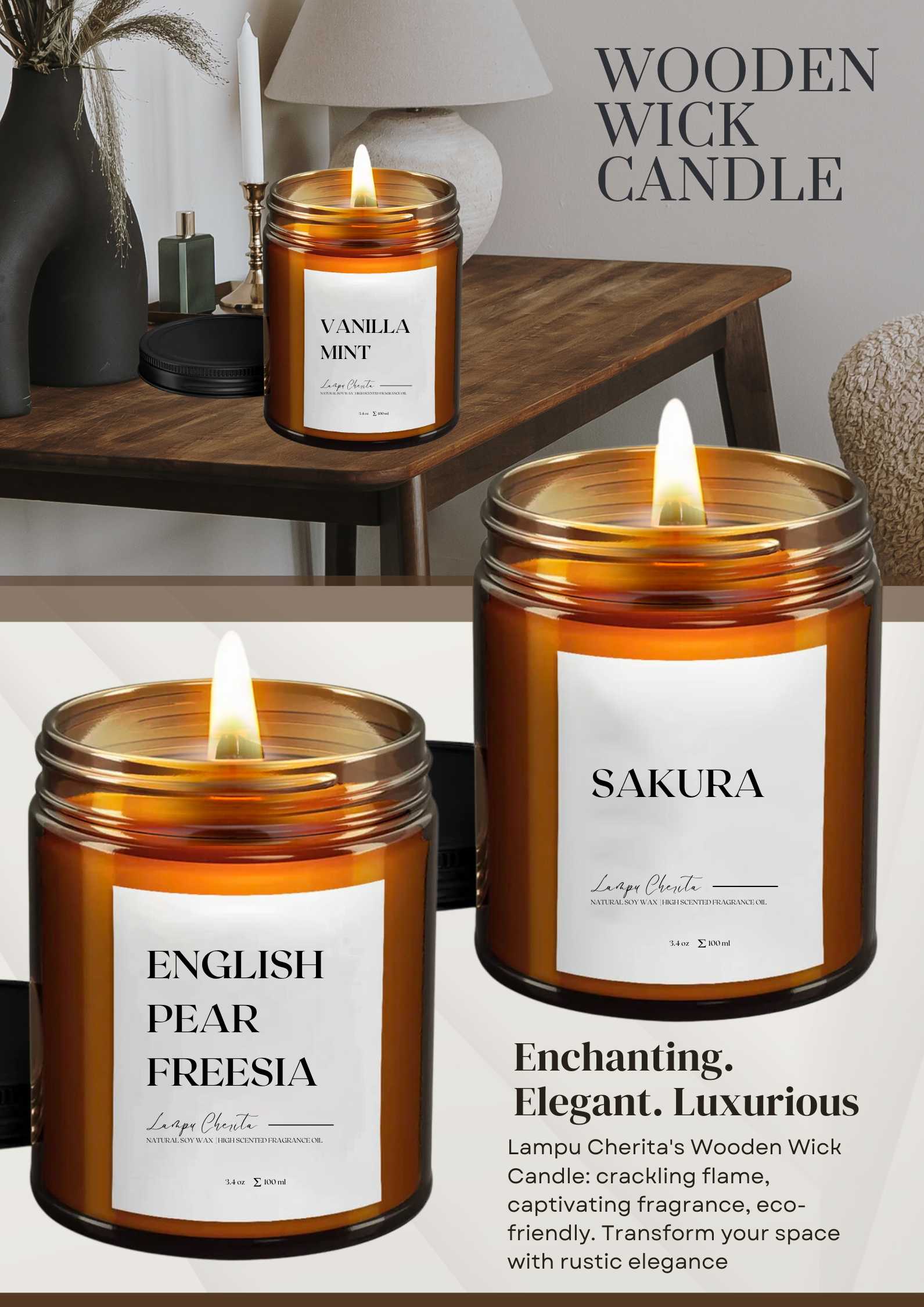 Our Wooden Wick Candles, proudly produced by Lampu Cherita, feature an impressive burning time of approximately 20 to 30 hours, allowing you to enjoy the captivating fragrance for an extended period. Encased in an elegant amber glass jar, they add a touch of sophistication to any setting. The 100ml size is specifically designed for small spaces, making them perfect for offices, bedrooms, or cozy corners. The classic white color effortlessly complements any decor, creating a harmonious atmosphere.

Crafted with natural soy wax, our candles ensure a clean and eco-friendly burn, providing you with a guilt-free indulgence. The wooden wick adds a rustic charm to your space and produces a delightful crackling sound as it burns, enhancing the cozy ambiance.

Experience the harmonious blend of elegance and tranquility with Lampu Cherita's Wooden Wick Candles. Elevate your surroundings with the enchanting fragrances and mesmerizing glow they offer. Choose your favorite scent or explore the captivating variety available. Order now and immerse yourself in a world of pure relaxation and bliss.
Share
View full details
Here are some of the benefits of your offer
ENJOY RM20 OFF
Enjoy RM20 off with minimum spend of RM200. Redeem the promo code now LC2023
QUALITY ASSURANCE
We deliver the best products
PAYMENT METHODS
GrabPay, FPX Online, Stripe
More than just candle !
We use the highest quality phthalate free, botanical fragrance oils, essential oils and lead-free cotton wicks to provide you with a clean burning candle
GET IT NOW