Regular price
RM16.00 MYR
Regular price
RM25.00 MYR
Sale price
RM16.00 MYR
Unit price
per
Sale
Sold out
Lampu Cherita Coffee Bath Bomb. Experience the ultimate luxury with Lampu Cherita's homemade Bath Bomb. Immerse yourself in a tranquil oasis as vibrant colors, captivating fizz, and enchanting fragrance create a spa-like indulgence. Elevate your self-care with Lampu Cherita Bath Bomb - an unforgettable experience.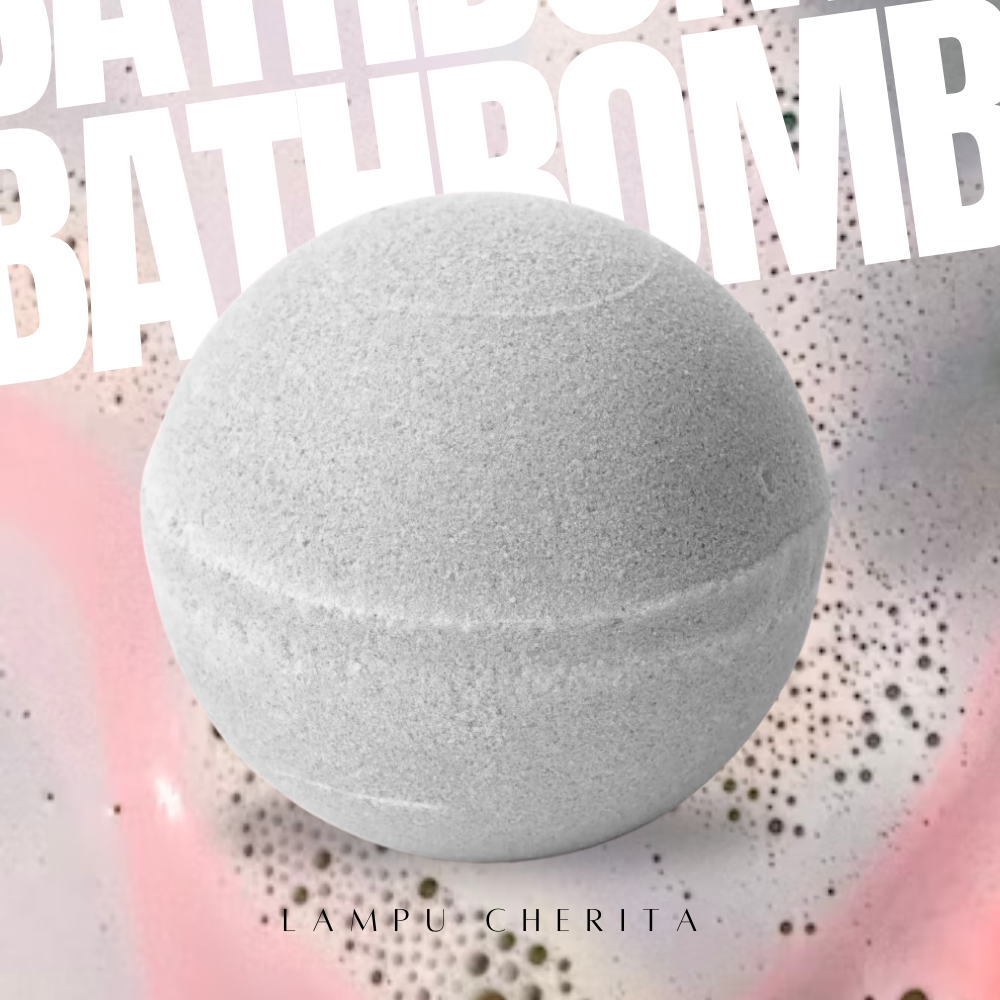 Key Ingredients:
Sodium Bicarbonate: Effervescent, creates captivating colors and fizz.
Citric Acid: Harmonizes with Sodium Bicarbonate for swirling hues.
Coconut Oil: Nourishing, leaves skin velvety-smooth.
Pigment Colour: Adds vibrant magic to your bath.
Ethanol: Disperses delightful fragrance evenly.
Polysorbate 80: Blends oils and water for a immersive experience.
Parfum (Fragrance): Enchanting, soothes the mind and uplifts the spirit.

Bath Bomb Size (1pc): 6cm (Dia) Sphere

Does the bath bomb produce bubbles?
No, bath bombs don't produce bubbles; they fizz in water, unveiling magical colors and tantalizing scents! Bubble baths, on the other hand, create fluffy bubbles. For the best effect, enjoy both bath bombs and bubble baths!

Is it safe for kids and sensitive skin?
Lampu Cherita Bath Bomb is carefully crafted to be safe for kids and sensitive skin. We prioritize quality and skin-friendliness in every product we offer. Nevertheless, we recommend conducting a patch test before full usage to ensure a seamless experience.

Will it stain my bathtub?
Our bath bombs are designed not to stain your bathtub. The vibrant colors effortlessly wash away with just water

How long can a bath bomb be kept for?
Bath bombs are safe to use for 1-2 years, but for the best effect, it's recommended to use them within 6 months of purchase. Over time, fizziness, colors, and scents may slightly reduce and change. Enjoy them while they're freshest!

"Bathabombs!" The rule is simple:
Mini tub - 1 Bathabomb
Standard tub - 2 Bathabombs
Super Spa time - 3 Bathabombs

Experience a captivating array of fragrances with each Lampu Cherita Bath Bomb:

🍌 Banana - Uplifting and playful
🍊 Bergamot - Relaxing and citrusy
🌸 Cherry Blossom - Renewing and delicate
🍫 Chocolate - Comforting and soothing
🍋 Citronella - Peaceful 
🥥 Coconut - Tropical and hydrating
☕ Coffee - Invigorating and revitalizing
🍐 English Pear Freesia - Elegant and tranquil
🌿 Ginger - Warm and invigorating
🍇 Grape - Indulgent and relaxing
🍯 Honey - Sweetly nourishing
💜 Lavender Mint - Balancing and refreshing
💜 Lavender - Soothing and calming
🍭 Lollipop - Whimsical sugary burst
🍈 Lychee - Exotic and adventurous
🍉 Melon - Revitalizing and fresh
🌿 Pandan - Aromatic and comforting
🍍 Pineapple - Joyful and tropical
🌹 Rose - Timelessly elegant and caring
🌿 Rosemary - Mind-clearing and revitalizing
🌸 Sakura - Delicate and harmonious
🪶 Sandalwood - Grounding and meditative
🌊 Sea Salt - Detoxifying and invigorating
🍓 Strawberry - Uplifting and cheerful
🍊 Tangerine - Bright and energizing
🌴 Tropicana - Vacation-like fruity escape
🌿 Woodsage - Calming and earthy
💕 Ylang Ylang - Sensual and indulgent
Share
View full details
Here are some of the benefits of your offer
ENJOY RM20 OFF
Enjoy RM20 off with minimum spend of RM200. Redeem the promo code now LC2023
QUALITY ASSURANCE
We deliver the best products
PAYMENT METHODS
GrabPay, FPX Online, Stripe
More than just candle !
We use the highest quality phthalate free, botanical fragrance oils, essential oils and lead-free cotton wicks to provide you with a clean burning candle
GET IT NOW